1,000+ Brokers, CPAs, and End Clients have partnered with us to Deliver Customized Data & Technology Solutions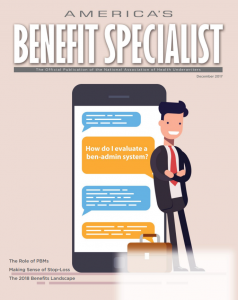 Benefits Administration System Evaluation: 5 Pillars to Review
We listened to a lot of pitches and reviewed a lot of materials from the market and thought we would give our view from a consultant's perspective that has experience rolling out Customer Relationship Management (CRM) and Enterprise Resource Planning (ERP) Software to Fortune 500 companies.

Sales & Marketing Automation
Toolsets to manage, measure, and maximize the entire Sales & Marketing Funnel
Full Life Cycle Lead to Customer Automated Tracking – Less Keying & More Selling
Customer Relationship Management (CRM)
Email Campaign Management Systems and Drip Automation
Content Creation, Duration, and Distribution
Analytics and Dashboards to Manage All Processes
Integration with Business Processes, Email, CRM, and Contacts
Lead Identification, Lead Source, Marketing Measurement, & Engagement
Sample Solutions: SalesForce®, SharpSpring®, Sugar®

HR Solutions
Systems to automate the HR and Benefits Workflow. Compliance Solutions.
Benefit Administration Systems Selection, Implementation, and Maintenance
Data Migration, Cleaning, and Mapping Services
Payroll Integration
Carrier EDI Integration
ACA Reporting & Tracking
ERISA: Form 5500 and Wrap Document Preparation
Sample Solutions: Employee Navigator®, Integrated-HR®, ACAPrime®

Productivity & Business Intel  
Leverage Technology to make you and your team more efficien

t – Save Time & Money!

Tap into leading Ecosystems like Google and Microsoft to make your business life easier
Cloud Storage and Work Flow Management
Advanced Email Productivity Tools and Automation
Automated Scheduling and Calendar
Electronic Signatures and E-Fax
Online Meetings, Screen Share, and Virtual Help Desk
Security Assessment and Putting into Place Minimum Standard Best Practices (HIPAA Compliance)
Business Dashboards, Metrics, & Intelligence
Sample Solutions: G-Suite®, Microsoft®, ShareFile®, GotoMeeting®, SignNow®

Web Presence 
Website 3.0

and Website Refresh

Chat Clients
Social Media Sharing
Best Practices in Lead Gen – Website Optimization – Call To Actions, Lead Gathering, Landing Pages
Content Generation, Curation and Blogging
Social Media Advertising and Conversion
Online Reputation Management and Referrals
Search Engine Optimization
Google Adwords / Google and Bing Optimization

Technology Consulting – General
Systems Selection : There are a myriad of choices for business, HR, sales & marketing systems – let us help you make the choice based upon what is right for your business
Systems Integration Use our Expertise integrating Fortune 500 ERP and Business Systems to quickly on-board you and your clients onto new platforms
Technical Advisement for Operational Success – Do more with less through automation of workflows, customer management, and paperwork

Compliance Solutions
ACA (Affordable Care Act) Solutions through our ACAPrime Service includes comprehensive technology and consulting for ACA tracking and reporting
ERISA (Employee Retirement Income Security Act) Solutions for Form 5500, "Wrap" and Plan Documentation
Is Your Current Technology Strategy Working For You?
ChannelBound Can Help

Marketing Solutions
Build a marketing machine to grow and foster deeper relationships with prospective and existing customers. Ensure your online footprint, from your website(s) to social media to industry platforms, bolster your company's strengths and build share of mind for your potential user base. Measure results of your initiatives through advanced analytics aimed to increase revenue – not just leads, web hits, and number of followers.
IT Solutions
Make sure you have the technology stack and processes to automate and accelerate your entire business development flow. Our team of IT specialists has the experience to deliver enterprise class solutions.
ChannelBound
ChannelBound helps companies plan, build, market, and sell technology solutions to drive business growth. Our engagements are always guided by our customer's business objectives. Our IT solutions create web and mobile experiences that increase and cultivate a loyal, happy customer base. Our customized inbound marketing automation services position your company with the right message in strategic sales channels to drive revenue.
What Our Customers Are Saying
"The first year of ACA Reporting, our clients used a variety of Reporting and Tracking Vendors.  We spent countless hours working through templates with vendors; but we had a few clients with ChannelBound that had already completed filing early.  We found they were the only vendor that spent the extra time to help our clients.  They helped the large 1000+ Employee Clients and the smaller 60-Employee Clients just the same.  Over the next year we migrated most of our clients to ChannelBound, and they were amazed at the difference in both price and service.  Not only did he make us look good, we had unsolicited "Thank You" emails from our clients who had experienced such a great service over their previous service provider.  Now I have my clients sending me referrals for ACA Services!"
– Joe Grady, Owner, Grady Benefits
"My company, Driving Ambition, employs 400 full-time and 600 part-time employees with a high amount of turnover across six states.  Our data was held across multiple legacy systems and in multiple spreadsheets.  Needless to say, the situation was complex.  We contracted with ChannelBound who gathered, cleaned, and merged all of our data together and produced the ACA reporting & filing soup-to-nuts flawlessly."
– Rodney Graham, President, Driving Ambition
Are you ready to learn how ChannelBound can help your business?
Please Contact Us:
SalesForce® is a registered trademark of Salesforce.com Inc. SharpSpring® is a registered trademark of SharpSpring, Inc. Sugar® is a registered trademark of SugarCRM. Employee Navigator® is a registered trademark EmployeeNavigator. G-Suite®, is a registered trademark of Google. Microsoft® is a registered trademark of MicroSoft Corporation. ShareFile® is a registered trademark of Citrix, Inc. GotoMeeting® is a registered trademark of LogMeIn, Inc. SignNow® is a registered trademark of Barracuda Networks, Inc. Oracle® is a registered trademark of Oracle Corporation.